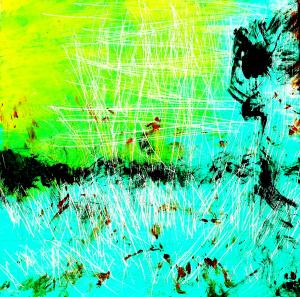 I don't blog often. Actually 'rarely' or 'never 'would fit into that sentence just as well. It's not that I don't like to write; I do, very much. But I write when something moves me or when I feel I need to get something out of my being and into words. It's why I love poetry. I can write in obscure tones the deepest feelings that need a place to go. I can't do what so many fine bloggers do which is to take everyday moments and spectacularly make them sound like you just read a wonderful novel or short story. We all have our strengths and I guess blogging isn't one of mine, which puts me in a bit of a predicament.

As an 'emerging artist', there are tons of blogs and articles that give you advice on how to market yourself and your artwork. Tips on what you should and shouldn't do flood the internet for people like me, hoping to get that big break. A lot of them are very helpful and I have taken the advice of many wise artists who actually have the privilege of creating for a living. I work a 'regular' job and create on my off hours. And it works OK for me as I tend to create best at night anyway. I put the music on, most of the time with headphones, and start working with color and shapes until I'm either out of ideas for the night or just plain tired.

Included in these wonderfully helpful articles for emerging artists is the nearly mandatory preface that, as an artist trying to get yourself and your artwork noticed, you must blog, and blog often.

Strike One.

Another highly suggested formula for artists trying to gain momentum in their art career is that the artist needs to 'make a name for yourself'; i.e. create work that everyone will recognize as yours. It's something that I see written over and over again and it is a piece of advice that I just can't seem to take on.

Strike Two.

Let me explain. I get it. It makes perfect sense and it's not because I want to be rebellious, it's just that I don't work that way. To some I may look like a confused artist, but I am truly always working from my heart and my guts, and the truth be told, they're usually pretty confused!

Think of the times you have walked into a gallery and perused the show of an artist. There is generally a theme to their creations. Sometimes it's subtle, but normally there is an identity associated with the artist and their work. Let's face it, when you see a Picasso or Van Gogh or one of the many other famous artists' pieces, there is usually very little question as to who the artist is when you approach it. In fact, you can probably guess correctly standing several feet away.

My work comes to me from music. All of it is inspired by music. I let the music take me to the colors I use, the shapes I create, the types of tools I use, etc. I don't listen to the same genre of music every time I paint, either. I listen to a lot of different types of music and actually, I guess you can say that music is my tool. And because it's always different, so is my artwork. When I had my first show last year one of the first things I heard from people was how different all of the work was from piece to piece. It wasn't said as a criticism, but rather a compliment.

I realize that there are people out there who may think I do too much of everything, and that's OK. If you saw my resume of jobs I've held you would know that I don't stay anywhere that I am not feeling content or satisfied. The same goes for my paintings and what I create. I paint what I am feeling at the moment. All of it is abstract, yes; but I don't have a general 'theme'. I am fairly certain that someone walking into a show with my work hung would not see it and say, 'Oh, that is definitely a Sue McElligott piece'. It would be a wonderful compliment for sure, but on the other hand, I don't need my work to be personalized to me.

I've always wanted my work to say what it needs to say to the viewer of the piece. It's why I don't like signing my work on the front of the piece. In fact, I stopped doing that and I sign on the back and usually at an odd angle so someone doesn't think, 'oh, she signed it THIS way so it must be intended to be hung in THIS direction.'

In the end I guess I make art because I love to make art. I don't have a 'theme' to my work other than it being abstract in nature. I like to price my work on the lower pricing scale so that people can afford it; I donate my work to non profits, I give pieces away to family and friends when I want to, and I also have 'giveaways/contests' on my social media sites simply because the thought that someone wants to hang something I've created on their wall makes me happy.

Possibly Strike 3.

All of these topics are of heated debate between some artists but I don't get involved in them. Some may say I'm not a 'true artist' but rather a 'hobbyist'. And I think I'm OK with that, too. As Sammy Davis, Jr once sang, 'I've just gotta be me'! If I have to sit out of the game and in the dugout, I'll do it. As long as you give me my tools to create, I'll be just fine.


Sue McElligott is an artist who works mainly with acrylics, but also with oils and mixed media. She spends her time working a 'real job' 3 days a week and uses the remaining days to create art and market her work. She lives in Nevada City, CA with her husband of 23 years, their 14 year old dog and 2 feisty cats who basically run the household. Her next show is scheduled for July 7th – 28th 2014 at The Center for the Arts in Grass Valley, CA.